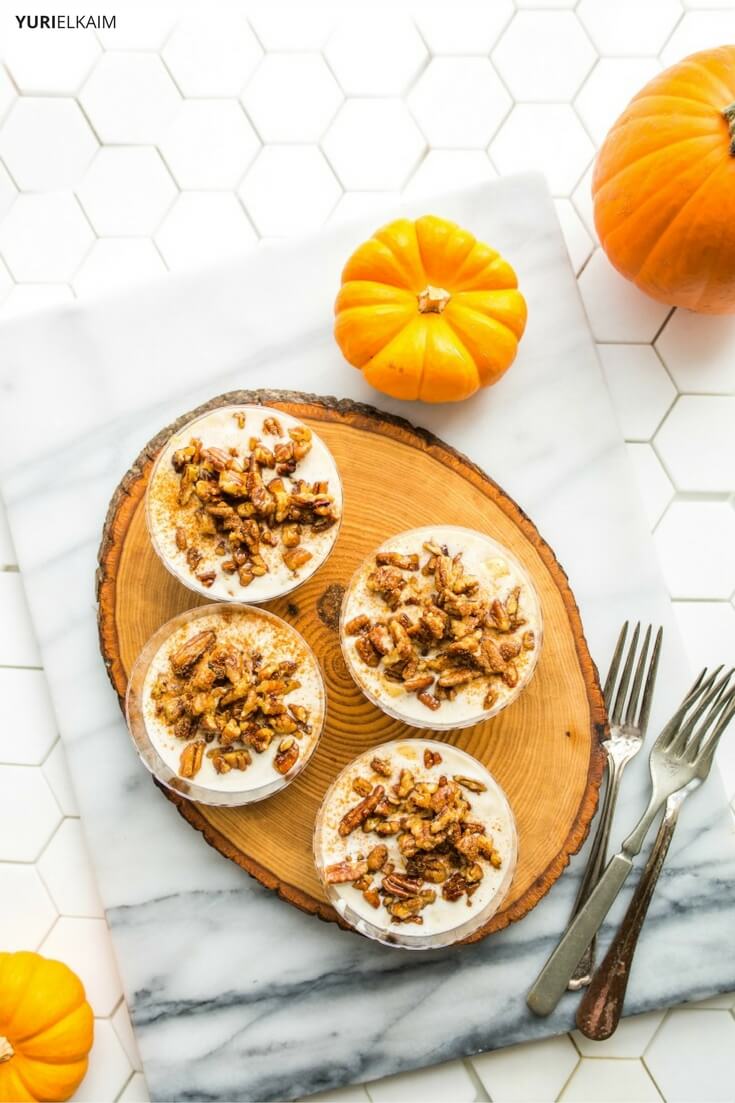 What dessert do you think of when it comes to autumn holidays?
Pumpkin pie, of course!
The good news is that most seasonal fall recipes – when stripped down to their basics – are healthy and packed with whole foods. That means we are free to indulge occasionally without damage to our waistlines.
Over the years I've created several healthier versions of autumn treats:
And now here's one more for your list.
Mini vegan pumpkin pies.
Crustless Pumpkin Pie
Have you ever made raw vegan cheesecake? This recipe follows a similar vein.

All you do is soak cashews in coconut milk overnight, then put the mixture into a high-speed blender – you can use a food processor if you don't have a Vitamix or Blendtec. Next, add a few more tasty ingredients, and puree. Then keep puree-ing.
The overnight soak and high-speed blending will agitate the fats in the nuts, which causes the mixture to thicken. The end result is a delicious pumpkin pie dessert that requires no baking, contains no sugar, and needs no crust.
Once you've assembled all the ingredients together, put them in the refrigerator and watch how nicely the pies sets up.
Because I like some crunch – and also because it's a great seasonal flavor – I've added mapled pecans. And if you want to really take the recipe over the top, you can add some coconut cream whipped topping, too. But the recipe is still amazing without either topping.
Soaked Cashews Add Texture
Soaked cashews are a vegan's best friend for delivering a creamy texture to both savory and sweet foods and adding plant-based protein as well.
They're not just great for making creamy pumpkin pie. Take out the pumpkin and you'll get a vegan cheesecake. Toss in some raw cacao powder and you'll get a rich chocolate mousse – made without heavy cream and eggs.
You can buy cashews at just about any store, but I make sure to purchase organic raw cashews, which is typically most budget-friendly when purchased from the bulk bins at local health food store.
For an antioxidant boost, add fresh berries to the top, or sprinkle on cacao nibs if you're a chocolate lover. Either way, one spoonful of our delicious and healthy mini vegan pumpkin pie will win you over!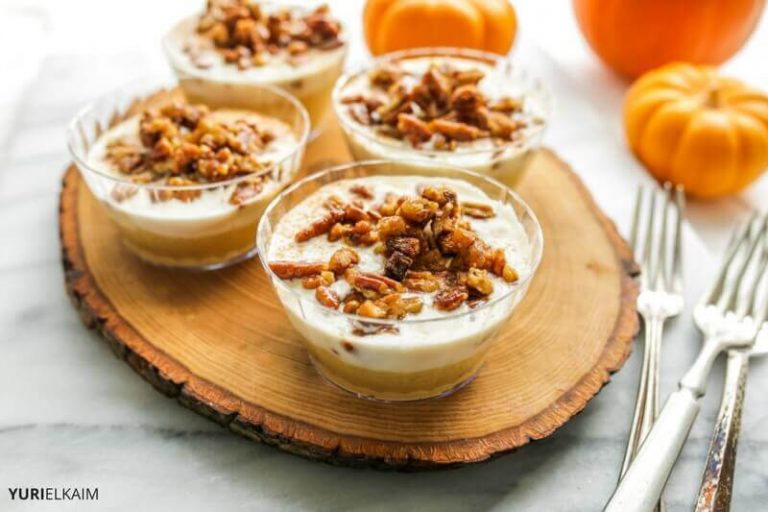 | | |
| --- | --- |
| | |
One day before serving, pour the cashews and coconut milk into a bowl. Cover and place refrigerator overnight.

Pour cashew mixture into a Vitamix blender. Add pumpkin puree, 1/4 cup of maple syrup, vanilla and spice. Blend until smooth and fluffy.

Spoon mixture into small serving glasses. Cover and refrigerate until ready to serve.
Optional nut and cream toppings
In a small saucepan, heat 2 tbsp maple syrup and pecans together, cooking just until syrup begin to bubble. Remove from heat and allow to cool.

To serve, place a dollop of coconut cream atop each pumpkin pie. Sprinkle with pecans.

To make whipped coconut cream: refrigerate a can of coconut milk overnight.

Open can and remove just the thick, creamy portion. Save the coconut water (perhaps for a smoothie!).

Transfer cream to a bowl, whip with an electric mixer until fluffy. Sweeten with a tablespoon of maple syrup or raw honey, if desired.
Healthy Desserts Can Be Delicious
Get my Healthy Desserts eBook and see for yourself!
It features 8 irresistibly delicious healthy desserts that are 100 percent gluten/dairy free and low in sugar!
Just click the banner to download now – for FREE!