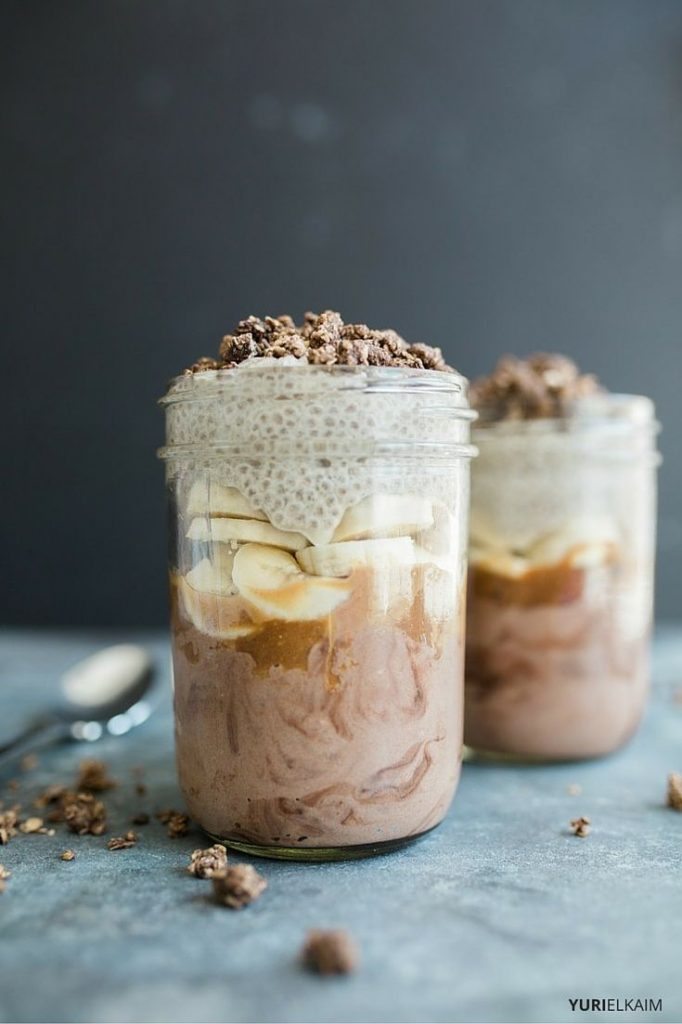 This recipe wears many hats – but they're all rich, delicious, creamy, and filling.
It can be a hearty breakfast, a decadent snack, an after-dinner treat, or even a post-workout meal. No matter when you have it, though, it'll satisfy you and give your body the nutrition it needs.
We like this chocolate chia pudding for its all-star list of ingredients: peanut butter and chocolate (probably the best flavor combo ever invented), bananas, maple-kissed chia seeds, and chocolaty granola.
But we love it for its nutrition: it packs 30 grams of filling protein into one serving and contains plenty of heart-healthy omega-3 fatty acids, antioxidants, and fiber.
A Good-For-You Treat
You don't think about parfaits containing fiber, but this one does. That's important because fiber offers your digestive system many health benefits.
Soluble fiber dissolves in water to from a gel-like material, lowering cholesterol and slowing the absorption of sugar to help improve blood sugar levels  (1) (2).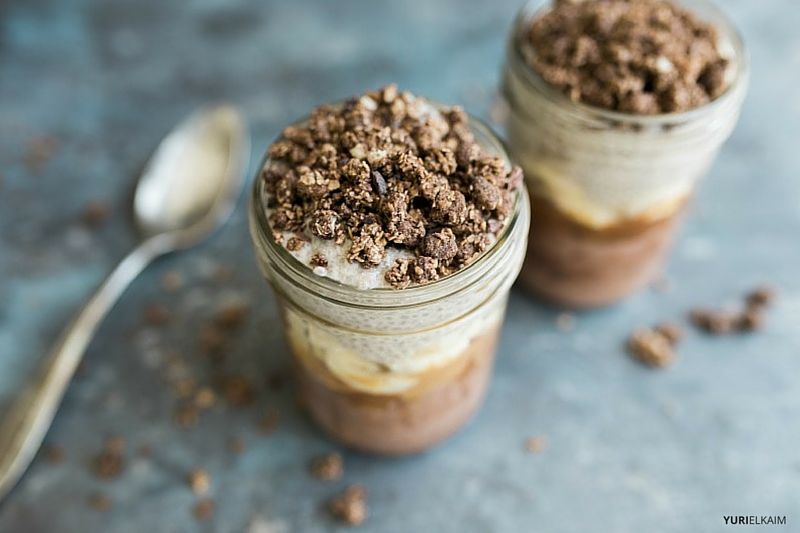 Insoluble fiber does not dissolve in water, but creates bulk which passes through your system to keep it working smoothly. High fiber foods also have fewer calories per volume than other foods and generally take longer to eat, attributing to weight maintenance or loss.
The chia seeds in this yummy parfait are full of omega-3 fatty acids, which lowers the risk of cardiovascular disease, reduces cortisol levels and helps improve brain function.
Chia seeds also offer energy-boosting properties, and were once used to give ancient Mayans sustained energy on long treks.
Chia parfaits and puddings make great healthy snacks because they form a gel when ingested, slowing the breakdown of carbohydrates and allowing the digestive system to process sugar in a more gradual manner.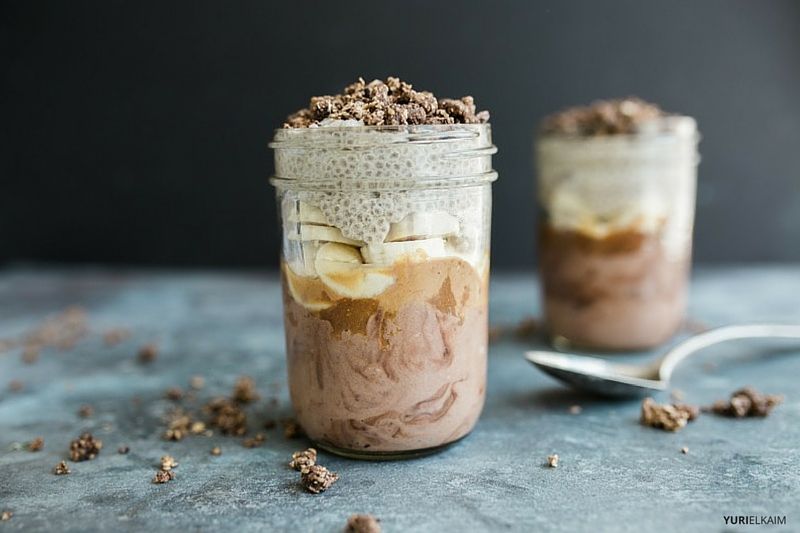 Chocolate Chia Pudding
Toss this together for an after-dinner treat or any time you need to keep hunger pangs at bay.
If you're looking for a more exotic chia parfait, you'll want to try this Tropical Chia Pudding Parfait. Likewise, if you love the chocolate flavor but want to cut back on the crunch, this Chocolate Chia Seed Pudding will fit the bill.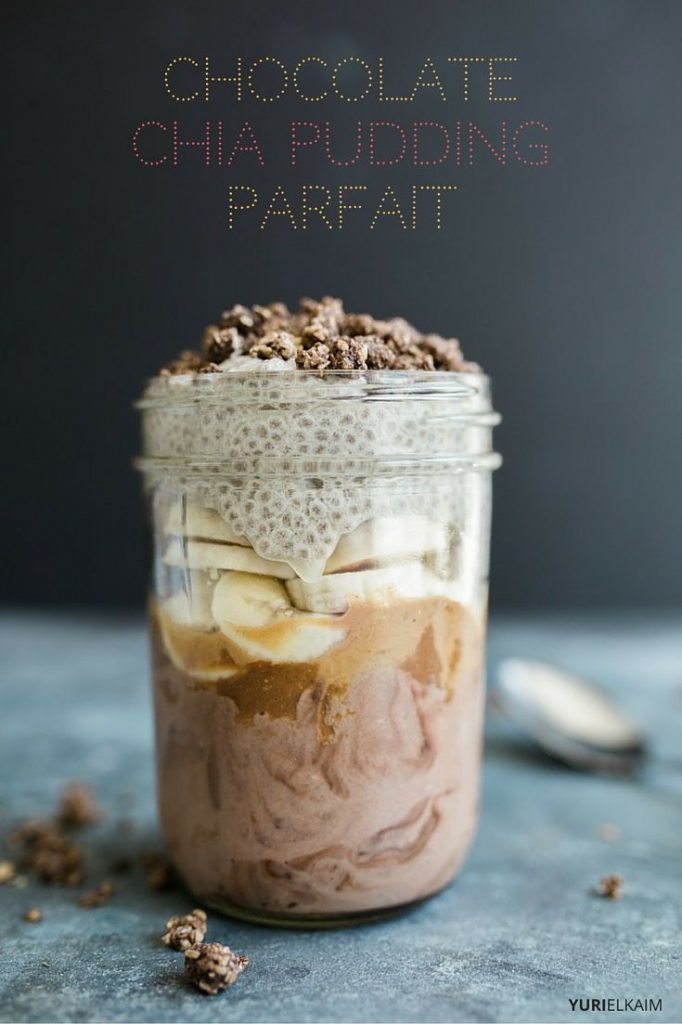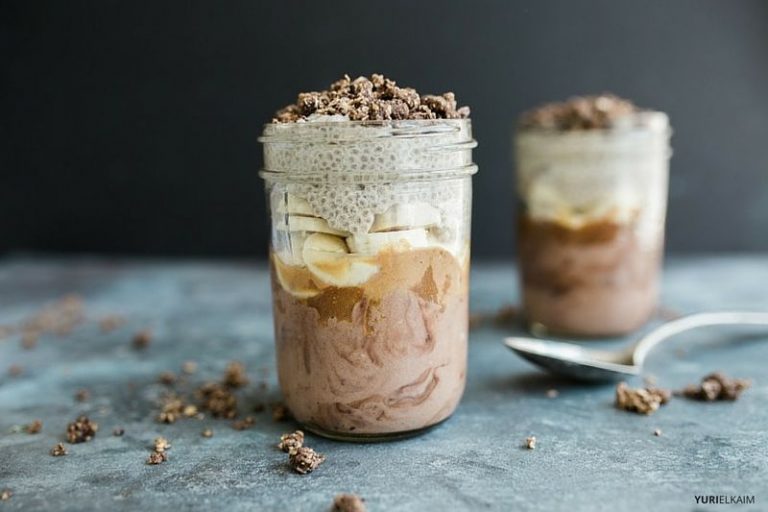 | | |
| --- | --- |
| | |
In a small bowl, stir together ½ cup coconut milk, maple syrup and chia seeds. Set aside.

In a second small, microwave-safe bowl, melt chocolate chips and 1/2 coconut milk together. Whisk in protein powder, if using.

Place in a hi-speed blender with rolled oats, almond milk and vanilla, blend until pudding-like in texture.

Spoon chocolate mousse mixture into the bottom of a parfait glass.

Top with peanut butter, bananas and chia seeds.

Garnish with rawnola or cacao nibs.
Refrigerate any unused portion and eat within 24 hours for best results.
Can I substitute anything for the peanut butter?

Absolutely. If you've got a peanut allergy, swap in almond butter. Or sunbutter (made with sunflower seeds) tastes great in this smoothie.
How far ahead can I make this recipe?
Because of the banana in this recipe, I reccomend making it and enjoying it in the same day. Unless, of course, you don't mind mushy bananas. In which case, aim to enjoy it within 48 hours.
I'm concerned about the fat content in coconut milk, or don't like coconut milk. What can I use instead?
Almond milk, cashew milk or flax milk work nicely as a swap. The consistency may be a little thinner, but not enough to make the chia pudding and chocolate mousse inedible. Go ahead and sub out the coconut milk for any of your favorite dairy-free milks, instead.
Healthy Tastes Amazing
Looking for more snack ideas? You'll love my Healthy Desserts eBook, which features 100 percent gluten- and dairy-free recipes that happen to be low in sugar but definitely are high in taste. You can get it for FREE right now by clicking the banner below.