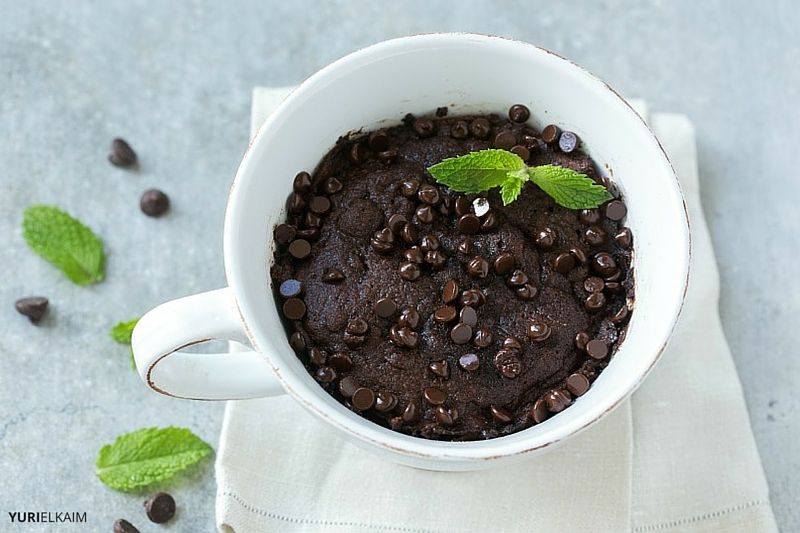 Some recipe trends befuddle me. I mean, I just don't get them.
For instance, I've never understood those full-of-fake-colors Cakes in a Jar. (But I can totally get behind Mason Jar Salads).
Cookies stuffed in cookies cooked in brownies? No thanks. (But give me some healthy Cookie Dough Bites, and I'll call it a good day).
And what about those mug recipes? Most recipes cooked in a microwave aren't superior to the real-made version. In fact, many of you know our family has eschewed a microwave for years.
That being said: Microwave mug cakes? I get it, because when it comes to cake, sometimes you just need a bite or two –  just enough to feel like you got a little treat.
So mug cakes make sense to me. That's why I took this trend and made an actual, real life, honest to goodness, absolutely insanely delicious little chocolate mug cake.
And I made it paleo. Plus, there's protein hidden inside.
Paleo Chocolate Cake in a Mug
So, let's talk through a few of the basics behind this one.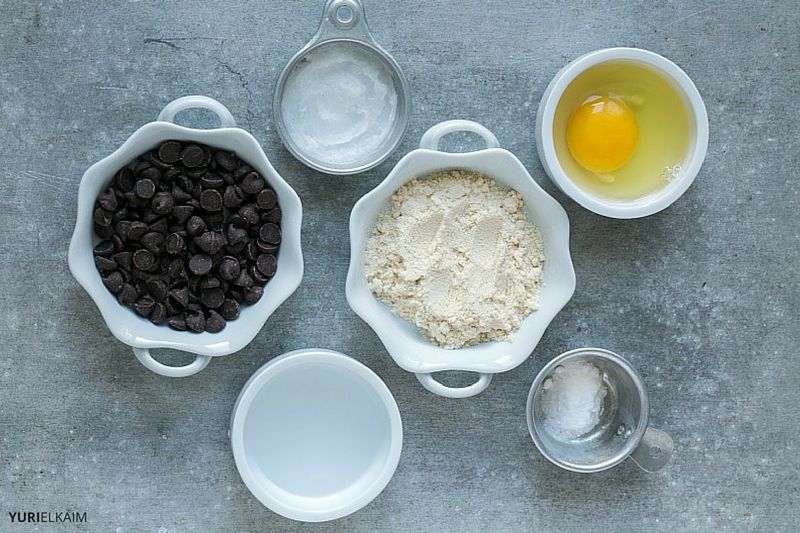 Forget the flour. You know I'm a believer in gluten-free eating – which can be tricky when it comes to baked goods. Most of us grew up eating refined white flour so we're accustomed to the texture and mild taste of white wheat.
To make a swap without scrimping on flavor, I nixed traditional flour and used almond flour instead.
Why? In addition to adding some protein to the recipe, almond flour is high in vitamins, minerals, and other phytonutrients. It's a rich source of vitamin E, protecting against free radical damage associated with age-related diseases, and it's also high in healthy unsaturated fats, and has been shown to reduce bad cholesterol (1).
Next, let's talk protein.
This mug cake has about 9 grams of protein, but you can add more by swapping out the almond flour for protein powder. My Pure Plant Protein is the best-tasting chocolate protein powder I've ever tried. And kid you not, we tasted nearly all of the proteins on the market while creating our special blend.
If you haven't already hopped on the protein train, here are two (among many) reasons it's good for you:
First, protein is essential for developing and maintaining muscle and provides fuel for the body.
Second, protein helps to keep you full after eating. Most sugary desserts don't contain protein and won't actually fill you up.
When sugar enters your bloodstream, your blood sugar levels spike, which triggers your pancreas to secrete insulin, a fat-storing hormone. Insulin allows sugar to get into your body's cells and out of your bloodstream.
Your blood sugar levels drop once that sugar is stored in your cells. The more sugar and carbs you eat in a short period of time (like when you eat a sugary dessert) the more it causes your blood sugar levels to dip and spike. We're trying to avoid that with this treat.
You Need Healthy Fats
I also added coconut oil because of its numerous benefits.
In a nutshell: coconut oil contains lauric acid, which can help balance your intestinal flora and help prevent infections both topically and internally. Coconut oil curbs hunger (2), improves cholesterol levels (3), and boosts brain health (4).
Protein, coconut oil, chocolate. There may not be a better combo of ingredients.
And I guarantee there's not a tastier paleo mug cake on the interwebs. Give it a try – I'd love to know what you think of this one.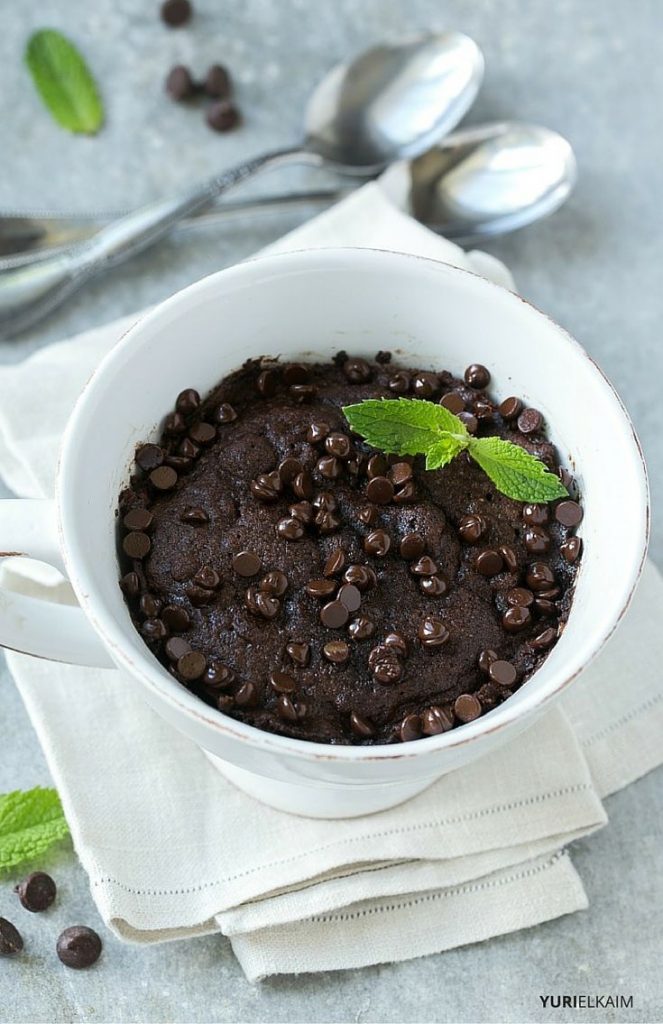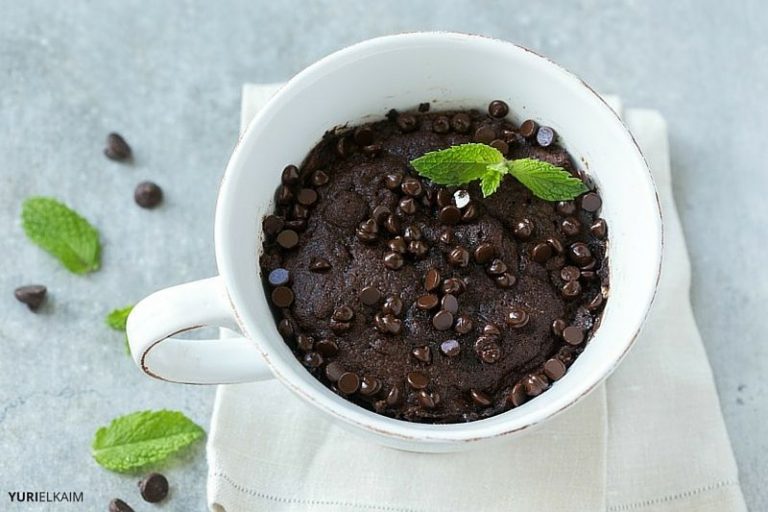 | | |
| --- | --- |
| | |
Combine 3 tbsp of chocolate chips and coconut oil in a large microwave-safe mug.

Heat in the microwave for 20 second increments until melted; stir to combine.

Add the almond flour, water, and baking soda into the chocolate mixture.

Stir until thoroughly combined.

Add egg to the chocolate mixture; stir well.

Heat in microwave until cake is cooked through, about 1 ½ minutes.

Sprinkle with remaining 2 teaspoons of chocolate chips.

Cool cake for about 2 minutes before eating.
*NOTE: If desired, omit the almond flour and stir in 1 scoop Yuri Elkaim's Pure Plant Protein powder.
Sweet Treats CAN Be Healthy
Satisfy your cravings with healthy foods that not only make your tastebuds happy, but also your body … because sometimes you just want to eat something delicious without feeling bloated and weighed down later.
My Healthy Desserts book features 8 irresistibly scrumptious treats that are 100 percent gluten and dairy-free and also low in sugar.
Get the book – for FREE – by clicking the banner below.