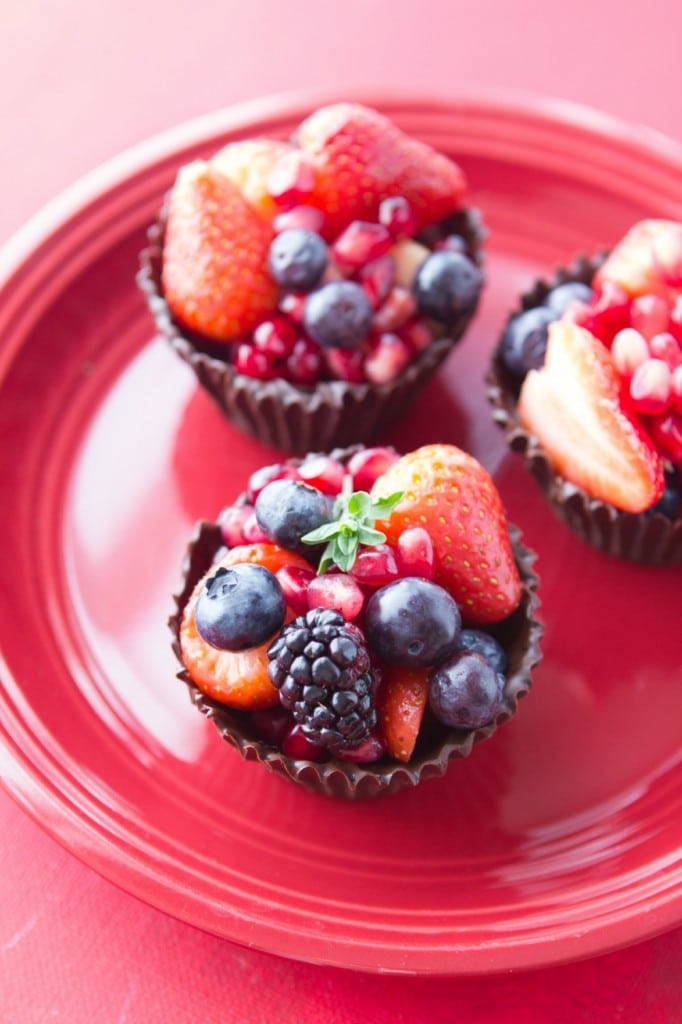 This recipe is so simple it almost isn't a recipe – it's more like an assembly project.
But it's also so elegant that you can serve it at the fanciest dinner party and wow even the most finicky guests.
Seriously, are these Dark Chocolate Berry Cups beautiful, or what?
And they are proof that when it comes to dietary "splurges," it's worth being choosy. Because while these technically are a splurge, they also are a decadent anytime treat.
Dark Chocolate Berry Cups
The beauty of these make-ahead chocolate berry cups is that they will satisfy your sweet tooth without giving you that awful weighed-down feeling you can get from a heavy dessert.
That's because they're incredible healthy. They're filled with raw cacao, which is a superfood version of chocolate, packed with antioxidants, magnesium, and iron. And they also contain coconut oil and use no refined sugars.
Bonus: you can customize this chocolate berry cup recipe with nearly any fruit choice that's in season or makes you happy.
And…
If you like chocolate cups, but want something a little richer and more satiating, try out my "healthified" Protein Peanut Butter Cups. Just 5 ingredients is what separates you from this delectable treat that's actually good for you.
All you have to do is melt the chocolate, "paint" the inside of a muffin cup, let it harden, and fill with fruit. It doesn't get much easier than that.
Enjoy!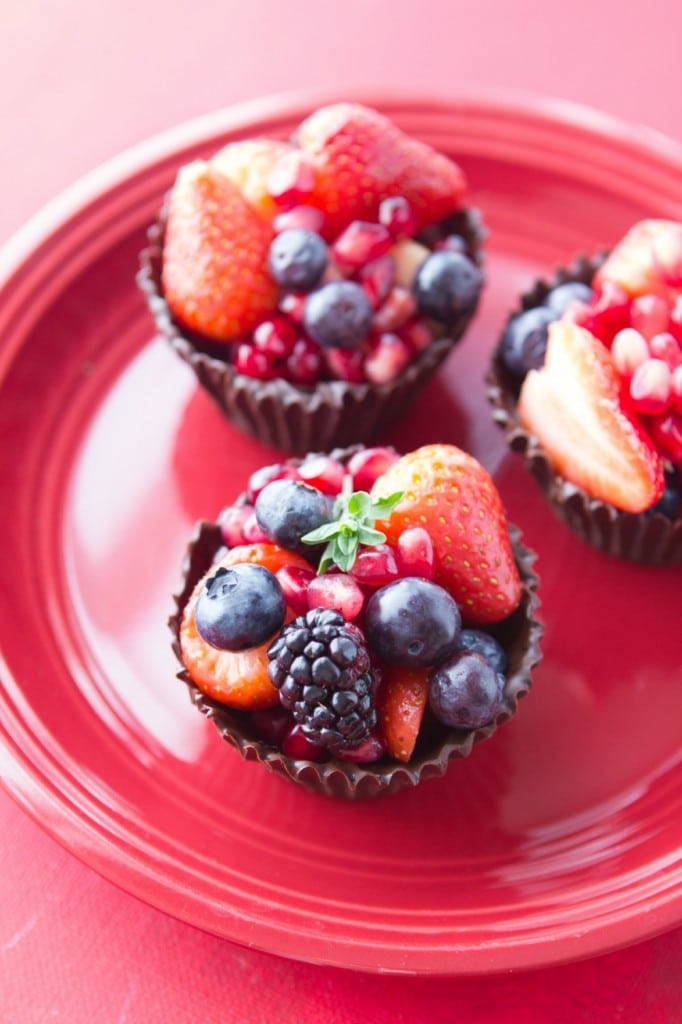 | | |
| --- | --- |
| | |
In a small pot over medium-low heat, melt together chocolate, cacao powder, coconut oil, honey, and stevia (if desired).

Whisk just until smooth, then remove from heat.

Use a basting brush to spread the melted cocoa mixture inside 8 muffin tin cups that have been lined with parchment cupcake wrappers.

Coat the wrappers with enough chocolate mixture to create a thin layer without any holes.

Place in freezer until firmly hardened, about 20 to 30 minutes.

Just before serving, remove from freezer and fill with your favorite berries.
Healthy Pudding Cups
These berry cups also taste great when filled with coconut chia pudding.
To make, simply whisk together 1/2 cup coconut milk, 1/2 cup almond milk, 2 tablespoons of chia, 1 teaspoon vanilla, and just enough stevia to sweeten the pudding.
Allow to thicken, then spoon into chocolate cups and top with berries.
Happy, Healthy, Yummy Desserts
Are you looking for more sweet treats that you can feel good about serving your family and guests (and yourself)?
Be sure to download my free Healthy Desserts eBook, which includes recipes that are gluten-free, dairy-free, and also low in sugar, but that also make your sweet tooth happy.
Get it right now by clicking the image below!