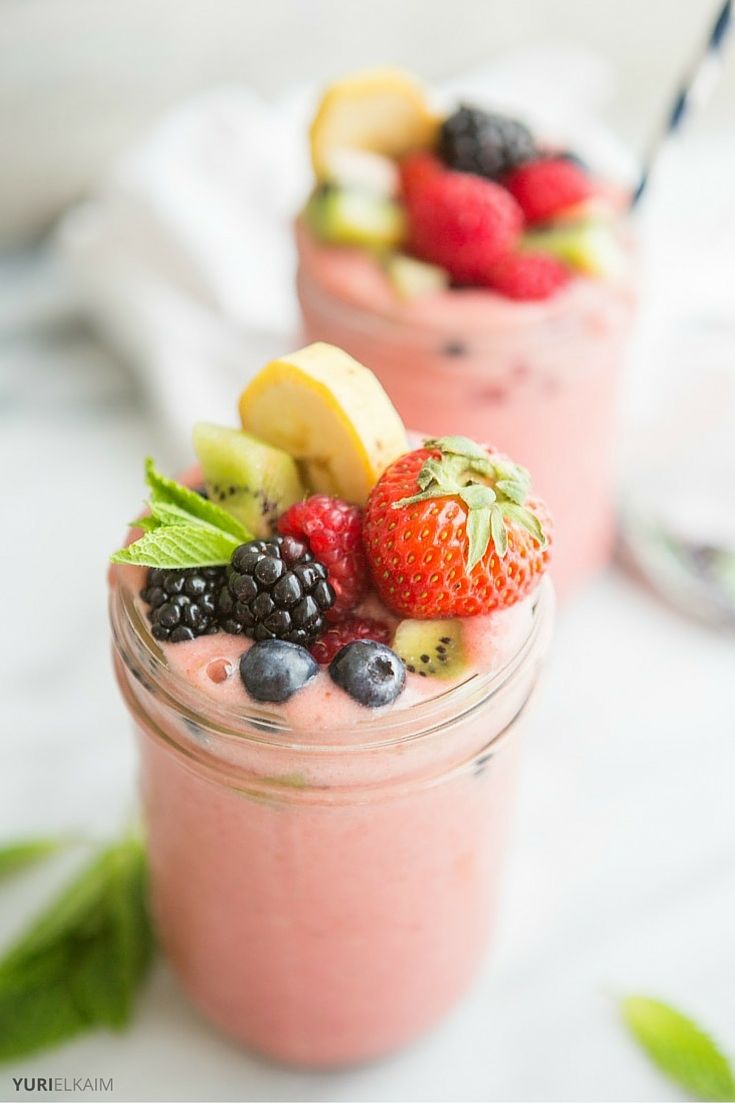 Perfect as a quick and healthy snack, this banana and strawberry smoothie is a refreshing treat.
This triple-duty smoothie can be a grab-and-go breakfast, after-school snack, or evening treat. Kids and adults alike will love its frosty goodness, which is full of fruit and blended into a creamy smoothie.
You can also add one of the healthful boosters I recommend below, or enjoy as-is for a cooling, vitamin-packed, non-dairy drink.
Why This Banana and Strawberry Smoothie Rocks
Not only is it delicious, this recipe is flexible and is a great way to introduce healthy smoothies to people who might otherwise be a little hesitant about making a more nutritious choice.
Finding a strawberry banana smoothie without yogurt for people who avoid dairy can be tricky – but this one is an excellent choice for a number of reasons.
It Tastes Amazing
Summery sweet, strawberry-banana is a favorite flavor.
Great for kids, this whole-food, all-fruit smoothie tastes like dessert, but is packed with nutrient-rich ingredients that boost your health.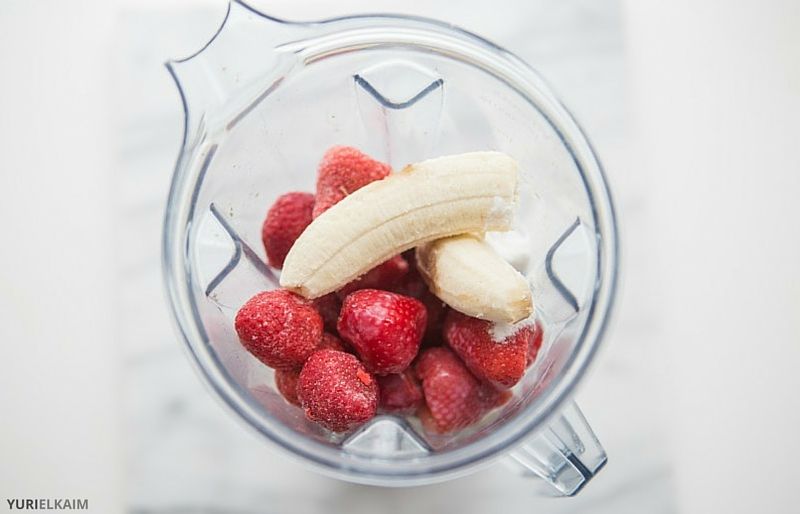 I like to offset this creamy smoothie with more berries than banana, just to ensure the sugars aren't out of control. If you like tart, sweet strawberries paired with smooth bananas and nutty almond milk, this fresh, drinkable treat is for you.
It's a Healthy Choice
A hint of sweetness isn't the only thing you'll get from the banana in this smoothie.
Bananas benefit digestion and heart health, and are full of antioxidants and essential minerals.
Bananas contain potassium, which is great for lowering blood pressure, regulating the heartbeat, and carrying electrical impulses throughout the body. Bananas are also fairly rich in fiber, which keeps you feeling full and contain resistant starch, which feeds beneficial gut bacteria.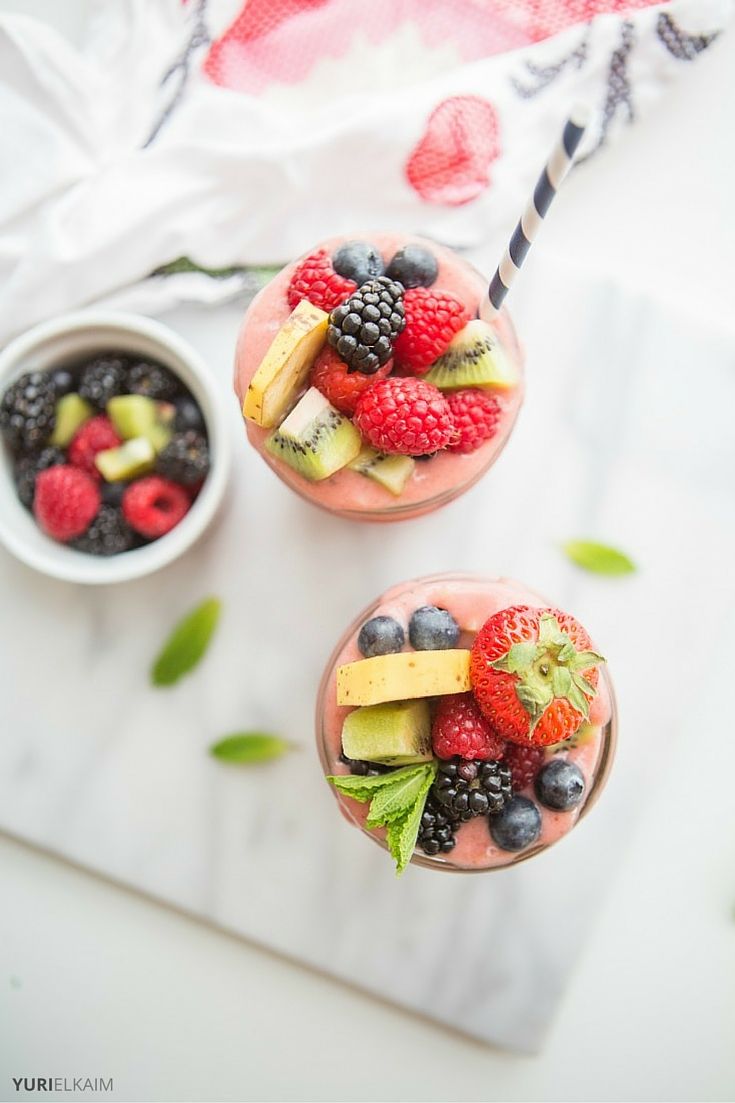 Strawberries not only taste great, they can help control blood sugar levels.
An antioxidant in strawberries halts activity of an enzyme that breaks starch into simple sugars. Fewer simple sugars enter the bloodstream, making blood sugar levels more stable along with corresponding insulin levels. The vitamin C in strawberries boosts the immune system and encourages collagen and elastin production, keeping skin youthful.
Enjoy your smoothie the dairy-free way with almond milk. Dairy tends to irritate the digestive system and cause issues in those who are lactose-intolerant, and almond milk makes the perfect substitute. Almond milk is high in proteins, lipids, and fiber.
It's also loaded with calcium, iron, magnesium, phosphorus, potassium, and zinc, as well as other important nutrients like folate and vitamin E.
Drink almond milk to maintain blood pressure, increase cardiovascular health, and promote healthy skin.
It Takes Minutes to Prepare
Incredibly easy to make, this strawberry banana smoothie hits the spot. Drink it immediately or pack it along in your lunch for a satisfying snack any time of day.
To make this smoothie as simple as possible, I used frozen strawberries, which means you don't need ice.
If you have time to freeze some overripe bananas, dice them raw and then freeze in zip-top baggies.
When it comes time to make your smoothie, pop the frozen fruit into the blender with almond milk and you'll have a rich, creamy smoothie in less than five minutes.
You Can Add Health Boosters (or Not)
This smoothie is really easy to upgrade, but you don't want to overdo it.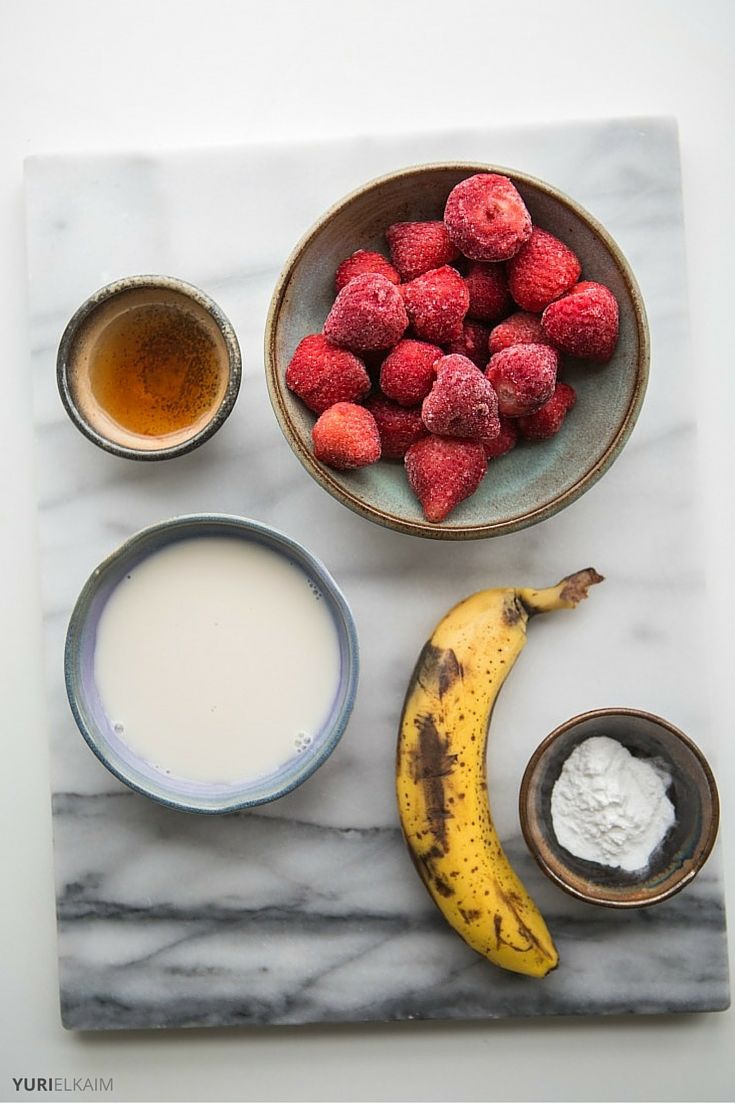 There's no need to go all out and oversaturate your smoothie – you may risk not wanting to drink it and miss out on all the awesome health benefits. Pick one or two boosters and enjoy them.
Booster Options:
Protein Powder. Because this smoothie is fruit-based, I do recommend adding a scoop of protein powder if you're making it for breakfast.
Protein revs your metabolism in the morning and provides fuel for the body. It'll keep you feeling full and satisfied for longer after you eat. A scoop of plant-based protein powder like my Pure Plant Protein tastes great in this smoothie.
Almond Butter. Mild tasting, but a great flavor match for this smoothie, add raw almond butter if you're looking for more plant-based protein and heart-healthy fats.
Ground Flax. A tablespoon of ground flax is a great way to take this smoothie from good to good-for-breakfast.
High in fiber and Omega-3 fatty acids, flax is great for your digestive health while offering anti-inflammatory benefits as well. A tablespoon of ground flax will be virtually hidden in when blended into this smoothie.
Maca. For hormonal regulation, add 1 teaspoon of maca to your smoothie.
Maca is also great for natural energy. Maca powder blends well into smoothies, and can be found at your local health food store.
Potato Starch. Boost your intake of resistant starch in one of nature's most potent forms – raw potato starch.
A teaspoon or two mixes nicely into this smoothie. Resistant starch stabilizes blood sugar and feeds the friendly bacteria in your gut.
Gelatin. Strengthen hair, skin and nails by adding a small amount of raw gelatin to this smoothie.
Gelatin may also have protective effects against degenerative joint disease, and helps to support the connective tissue in your body. Just make sure you drink your smoothie immediately so the gelatin doesn't have a chance to "gel."
Chia seeds. A tablespoon of chia stirred or blended in delivers a punch of nutrition.
Chia seeds are known for their superfood power in delivering omega-3 fatty acids, protein, fiber, and antioxidants all in one tiny seed.
Coconut Oil. Blend 1 to 2 tablespoons of liquid coconut oil or MCT oil (available online) for medium-chain fatty acids and slow burning energy.
Though this will boost the fat and caloric intake of your smoothie, it will also satiate you, so a little goes a long way.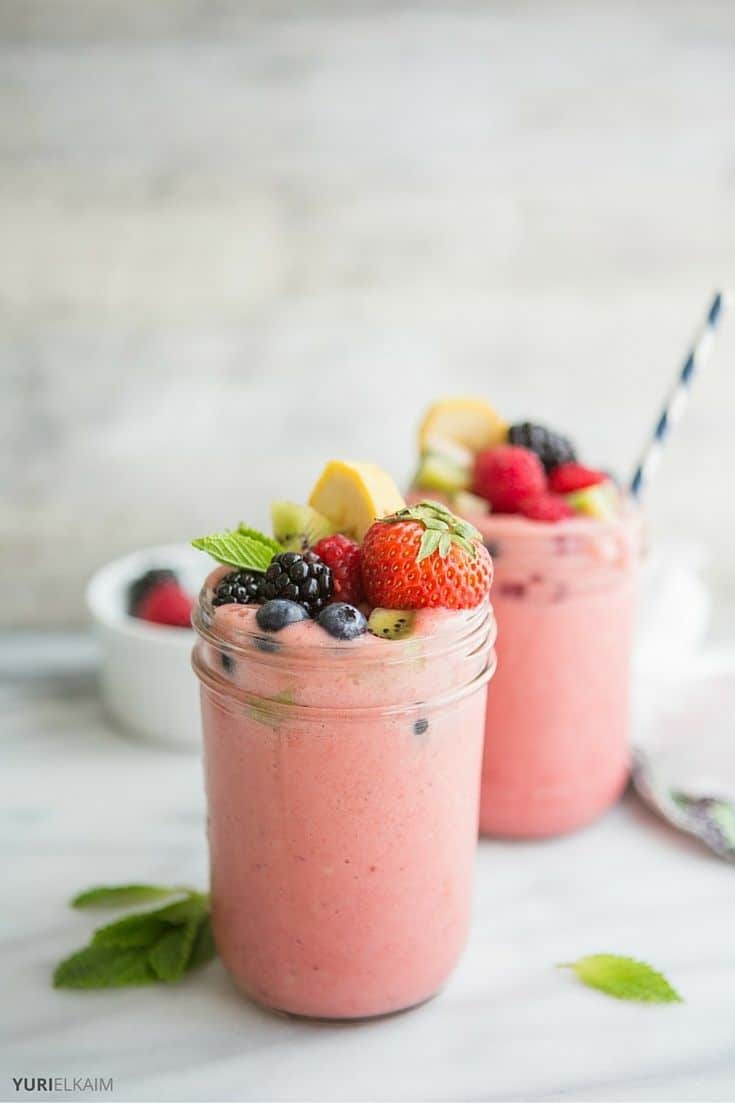 | | |
| --- | --- |
| | |
Blend strawberries, banana, almond milk, and desired booster in a high-speed blender until smooth.

If desired, top with diced fruit.
Secret Smoothie Formula Unveiled
Want to know the secret to making a perfect smoothie every time? If you're ready to make smoothies a regular part of your diet then start by downloading my FREE 1-page Perfect Green Smoothie printable, a foolproof step-by-step guide.
Click the banner below for instant access!