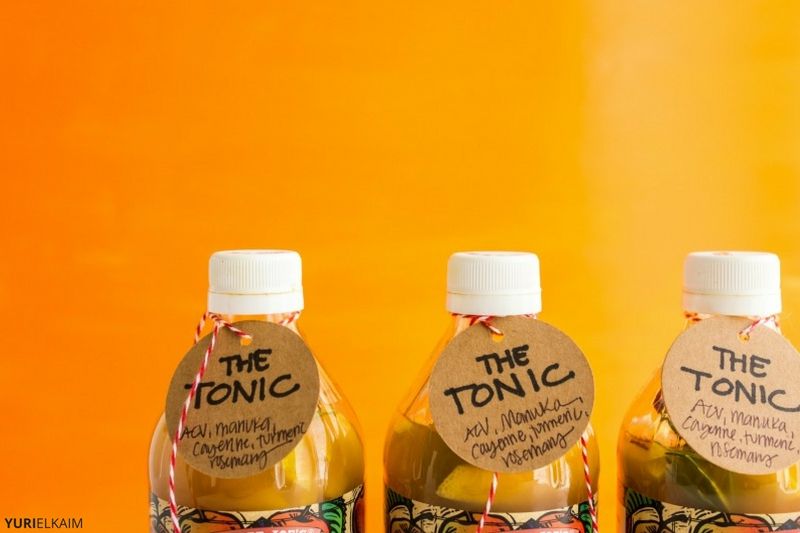 Getting sick isn't fun, so taking measures to fend off the sniffles is always a good idea.
I've been sick enough times in my life that I now try to halt a cold in its tracks.
Over the years I've tried many home remedies for both boosting the immune system and keeping a cold at bay. Long-time readers (and fans of apple cider vinegar) will know what I mean.
Over the years, I've shared my favorite wellness recipes for:
And now, an awesome apple cider vinegar tonic that consistently works to support a healthy immune system and ward off any viruses – perfect for when you feel something coming on.
Apple Cider Vinegar Tonic
This one is full of natural ingredients that, when combined, create a powerful elixir to combat nasty viruses and bolster the immune system.
Taken daily, it will support immunity naturally, and is also beneficial when signs of sickness are developing.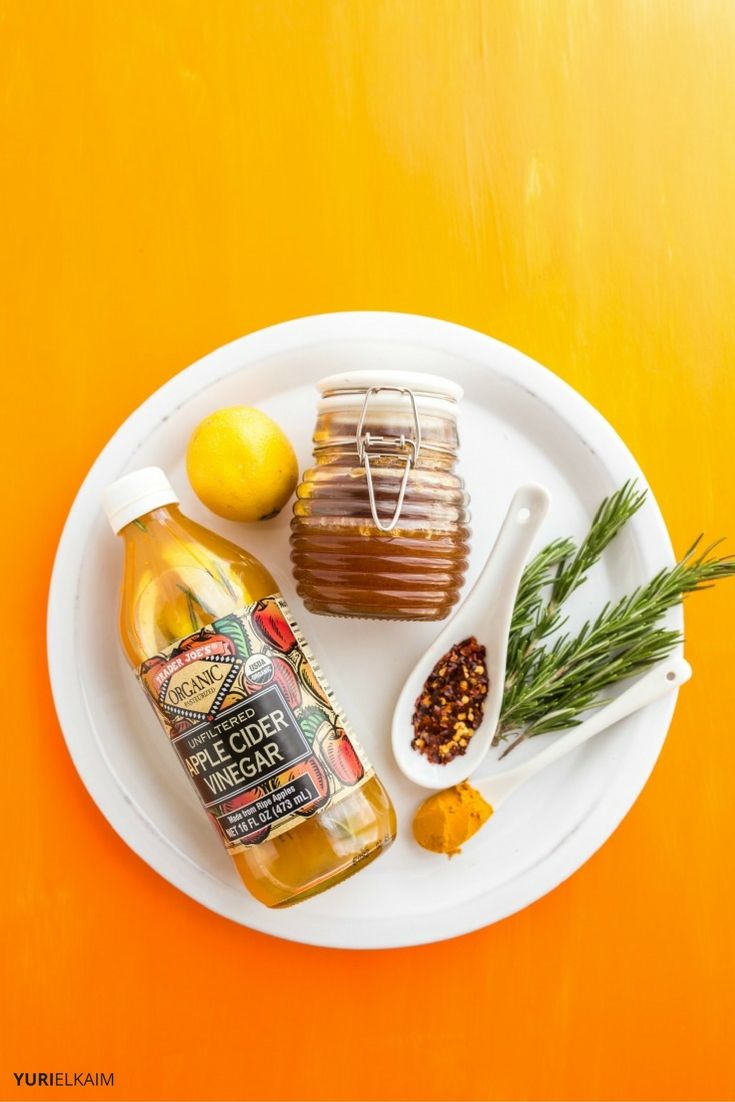 You might be wondering what makes this tonic so special. Here's what sets it apart:
Vitamin C
A 2011 study found that the greater the level of vitamin C supply in cells, the higher the immune cell activity (1).
So I've loaded this topic with fresh rosemary, turmeric, and red chili pepper, and since they all have high amounts of vitamin C, your immune cells will be primed when viral and bacterial infections invade.
Manuka Honey
I'm not a traditional sugar fan, but Manuka honey is a favorite of mine, as it not only tastes great, but also has amazing antibacterial and antiviral properties.
Manuka honey is imported from New Zealand, and it's only recently been making its way across the world. You can now find it in most grocery stores right next to the other honey options. It is more expensive than local honey, but this special honey is worth the investment.
Manuka honey is made when honeybees pollinate the "Manuka" or "tea tree" plant in New Zealand. Due to its antibacterial properties, Manuka honey is used in hospitals around the world when infected wounds don't respond to standard treatments.
Beyond this recipe, you can use Manuka honey as you would any other honey – as a sweetener in tea, in baked goods, or in marinades. If a recipe calls for granulated sugar, substitute one-quarter to one-third cup of raw honey per 1 cup of granulated sugar.
Apple Cider Vinegar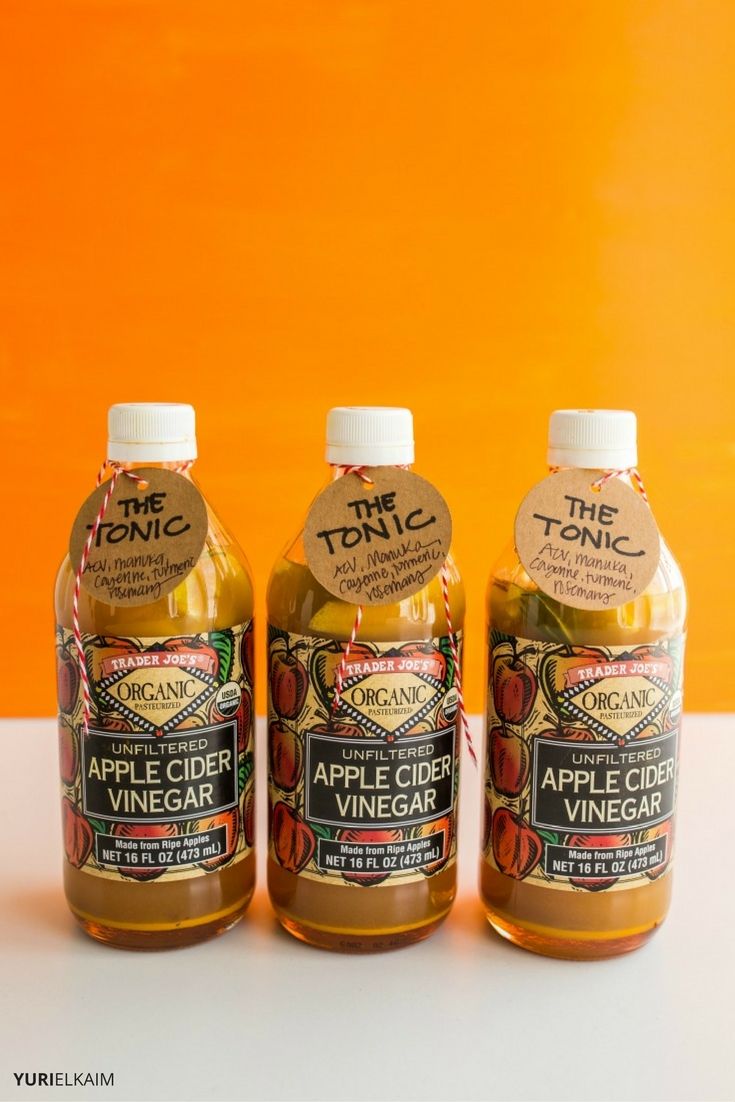 Apple cider vinegar (ACV) made the cut for my well-being tonic too, since it contains acetic acid, which kills bacteria and prevents it from multiplying and reaching harmful levels.
But please don't just grab any old bottle of apple cider vinegar off the shelf of your grocery store. Make sure the label is marked unpasteurized, unfiltered, and contains the "mother."
The "mother" is a collection of proteins, enzymes, and friendly bacteria that look like cloudy strands of thread on the bottom of the vinegar bottle. It's thought that the beneficial enzymes in apple cider vinegar displace some of the harmful bacteria in your body.
If you're sick, this is just what your body needs to rid itself of nasty bugs.
Bonus: Apple cider vinegar can also be used for cleaning, in salad dressings and marinades, and for beauty purposes. Here's a list of ACV's top 12 health benefits.
It's Healthy for Your Wallet
You could run to the health food store and pay more for some homeopathics. Or, you can hit your pantry and give this budget-friendly option a chance first.
It's easy to prepare a bottle of this wellness tonic, and it'll last you about a month.
Amy and I are huge fans of making several bottles and keeping them on hand for flu and cold season. When friends say they're sick, we tuck a bottle into a bag with tissues and Mason jar of our slow cooker Garlic Soup – one of our favorite comforting healthy eating recipes.
Awesome way to save the day, eh?
If you're averse to any of the flavors in this original recipe, you can switch up the herbs I used as "mix-ins" for extra flavor and health benefits. You'll notice that I included thin slices of fresh ginger to help soothe the stomach. I've also made it with horseradish, food-safe peppermint oil, cinnamon, fresh thyme, and mint.
Just one tablespoon a day will boost your immune system and fend off viruses and bacterial infections.
With little effort, you can take charge of your health, so grab your ACV and give this DIY a try.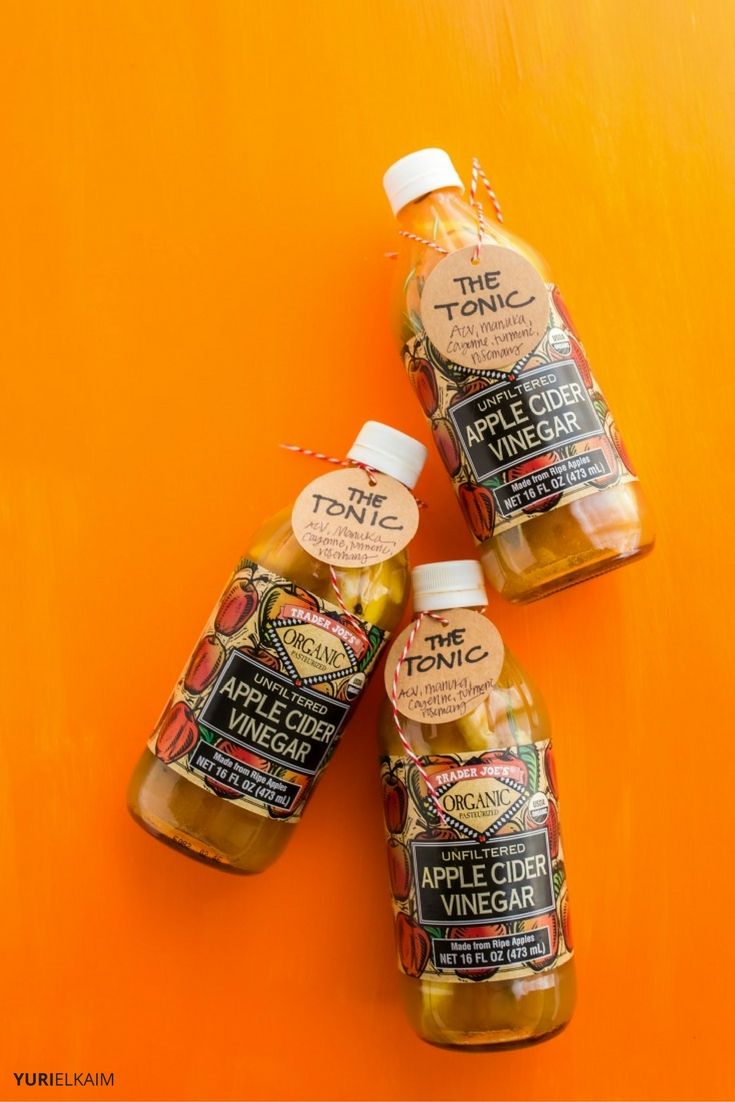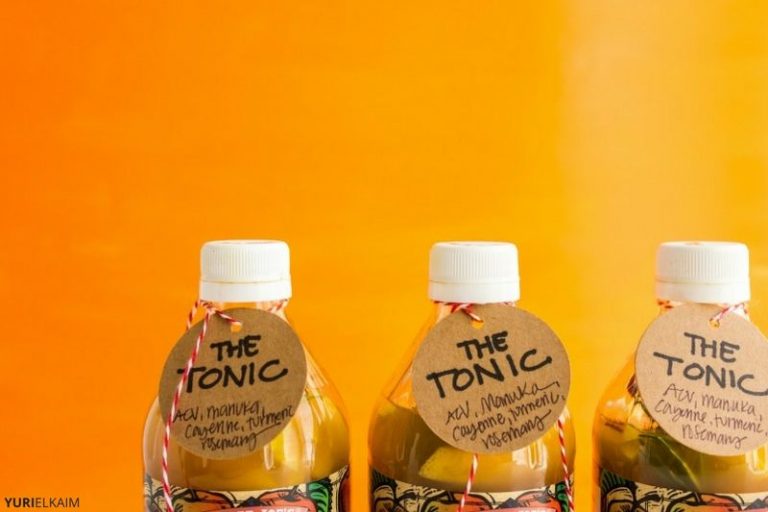 | | |
| --- | --- |
| | |
Pour the top off the top quarter of a bottle of vinegar and set aside for use later.

Add the lemon rind and rosemary, turmeric and chili pepper.

Shake until combined. Cap and refrigerate up to 1 month.

To use: take 1 tbsp daily when symptoms of sickness appear or to support a naturally healthy immune system.
A variety of fresh spices and herbs can be added to each jar for extra flavor and health benefit.
Try these: thin slices of fresh ginger or horseradish, food­-safe peppermint essential oil, cinnamon, fresh thyme or mint.
Feel Better with Home Remedies
Prefer to nurse your colds/flu/"yuck" with natural remedies? Me too. That's why I've compiled my 10 safest and most effective natural home remedies – the ones I use on my own family – into the Natural Home Remedies Handbook.
Heal skin, eye, and ear problems, colds and flu, and more!
You can get the handbook for FREE right now by clicking the banner below.