Throughout the years, a lot of diet fads have come and gone, but alkaline eating continues to prove itself the single most effective way to avoid and combat chronic disease.  Science shows a diet rich in raw, real foods is consistently connected to longevity, physical and mental health, and overall wellness. Though it's easy to break alkaline eating down to a recommended "Eat 80% Raw," I completely understand that actually living that philosophy can be tricky. We lead busy lives and don't often have time or access to raw, real, organic, life-giving foods.
I've long recommended starting the day with a green smoothie.  Most of us can carve out five minutes in the morning to  blend together a few simple greens. And this refreshing smoothie is a great way to do it. With just a few simple ingredients, you'll need just 2-3 minutes of prep time. Unllike other green smoothies, which often mask the greens flavor with high-sugar fruits, this recipe uses lime to add a bright, light flavor.
Whether you're a daily green smoothie lover, or just starting out, I highly recommend this favorite green sipper. It's as good for your tastebuds as it is for your body.
Incredible Health Benefits
Strawberry and lime are two flavors that will ease you into summer. Instead of a sugary sorbet, make a cooling smoothie that's healthy and refreshing. Adding in some greens is a great way to bring more health to your meal, so I've included spinach in this tasty, tangy smoothie.
Spinach– Spinach is one of the richest sources of iron among the leafy greens, and you'll get a good dose of iron in this smoothie. Low iron levels can make you feel tired and sluggish, so eating spinach often will help raise your iron levels. Spinach is also packed with powerful antioxidants and vitamins. Spinach is high in vitamin K, which protects your bones, and also high in vitamin C, which boosts your immunity and gives your skin a healthy glow.
Lime– A lime is an alkalizing fruit, and helps to balance the pH of the body, which tends to get acidic if we eat too much sugar, refined carbs, and meat. Limes contain limonoids, powerful antioxidant compounds that help fight cancer of the lung, stomach, colon, mouth, skin, and breast. The concentrated antioxidants in limes flush out toxins and free radicals, and the vitamin C supports collagen production and cell regeneration. Vitamin C is also excellent at boosting the immune system.
Strawberries– Strawberries help control your blood sugar levels. A key antioxidant in strawberries halts activity of an enzyme that breaks starch into simple sugars. Since fewer simple sugars enter the bloodstream, blood sugar levels are more stable, as well as corresponding insulin levels. Not only does the vitamin C in strawberries boost the immune system, it also encourages collagen and elastin production, which are key in keeping skin from sagging.
Hemp seeds– Hemps seeds are a complete protein, contain heart healthy fatty acids, are high in fiber, and rich in antioxidants. They are sprinkled on this smoothie for extra health benefits.
If you're ready for summer, make one of these healthy and refreshing smoothies. Your body will reap all the wonderful benefits from spinach, strawberries, and lime in this great tasting breakfast or snack.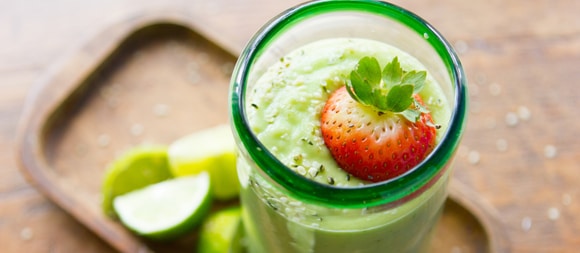 | | |
| --- | --- |
| | |
Blend the spinach, banana, lime juice, strawberries, and coconut water until smooth. Top with hemp seeds, and enjoy!